We first released the first prototype of Storipress in November 2021. Today, almost 6 months later, the team is proud to release the release candidate for Version 1.0.
Version 1.0 was a complete rebuild of Storipress' user interface and contains a bunch of user experience improvements.
It also lays the groundwork for paywalls and newsletters, nested desks, custom fields and a public GraphQL API. These brand-spanking new features will gradually roll out over the next two months, so get excited!
Thank you to all our early beta testers who use Storipress to grow their publications. Without your massive amount of user feedback, we would have never been able to get here. With our v1, you'll be able to create a sustainable publishing company on a platform that's easier to use than ever before.
Some of the highlights:
🏎 A redesigned home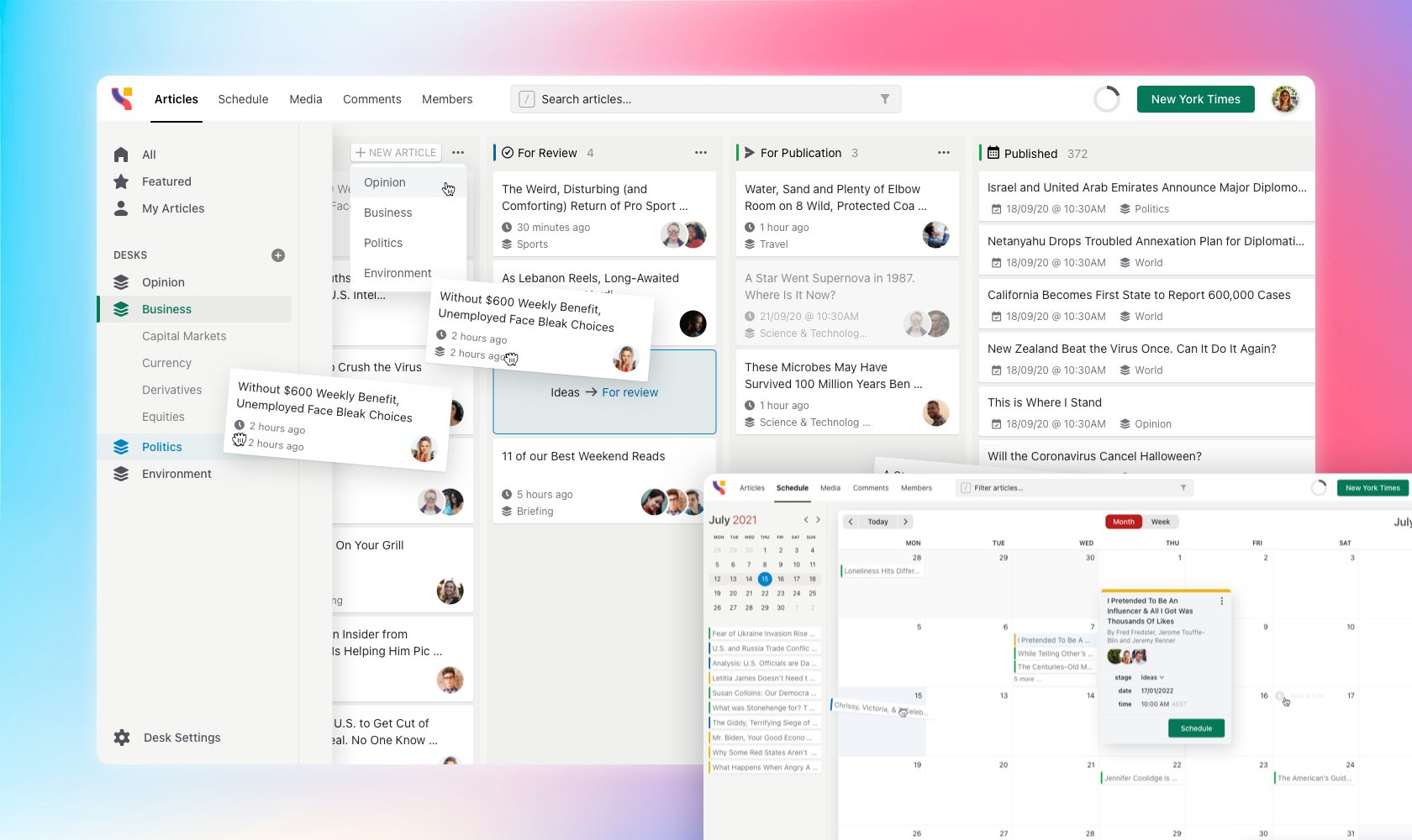 When we first released our kanban board and calendar scheduler, we were overwhelmed by the love we were getting from the idea. In the v1 release, we've made it even better:
All interactions now provide instant feedback! Try it for yourself.

Users without edit permissions can now see the cards in the interface (but not edit)

You can now add and customise new workflow stages!

You will be able to have nested desks, especially handy if you have a desk like 'Sports', and what to split that Sports desk into 'Football', 'Cricket', and 'Hockey' (launching next week).

Desks will soon have an 'open access' permission. The entire team is granted permissions to a desk without manually adding them (launching next month).
✍️ A sleeker, more responsive editor (that still retains everything you love)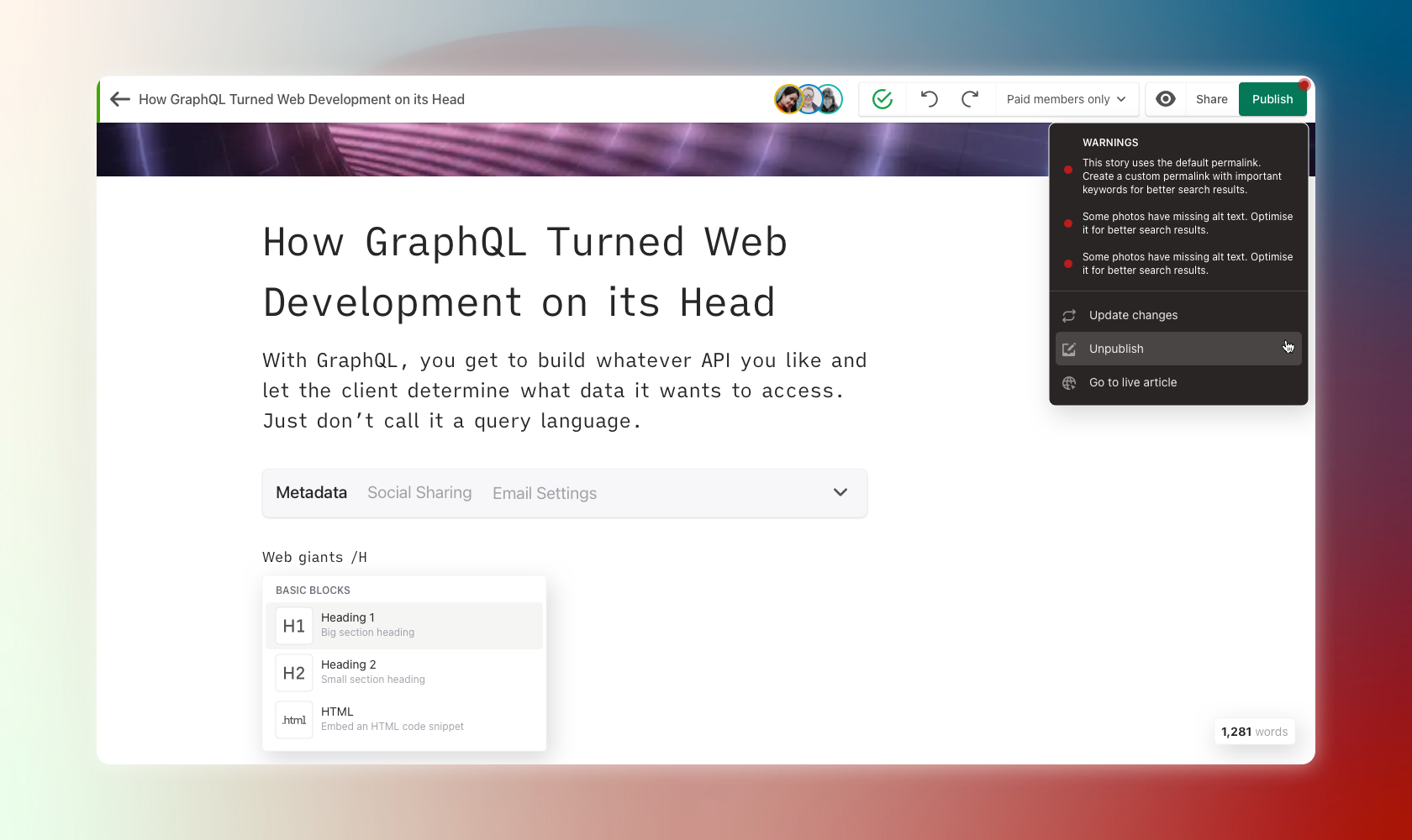 In creating Storipress, we knew to give publishers the best experience; we had to provide them with a collaborative editor, which bridged the gap between drafting and live. This release takes this idea even further with our preview mode, free from distractions.
A new preview mode minimises distractions, allowing you to focus on your idea.

Storipress now has slash commands! LFG!!! This much-awaited feature is finally here, so you never have to touch your mouse when editing again.

Updating metadata is now right within the preview page to minimise the chances of authors forgetting to update article meta for SEO.

Clicking publish now prompts you with a list of todos you should complete before posting to maximise your SEO. Think of it as a better version of Yoast's warnings.
But what about our live preview feature? Don't worry; it's still there! Clicking the eye button on the top right-hand corner will now direct you to the live preview where you can edit your article, just the way it would look live on your site 👇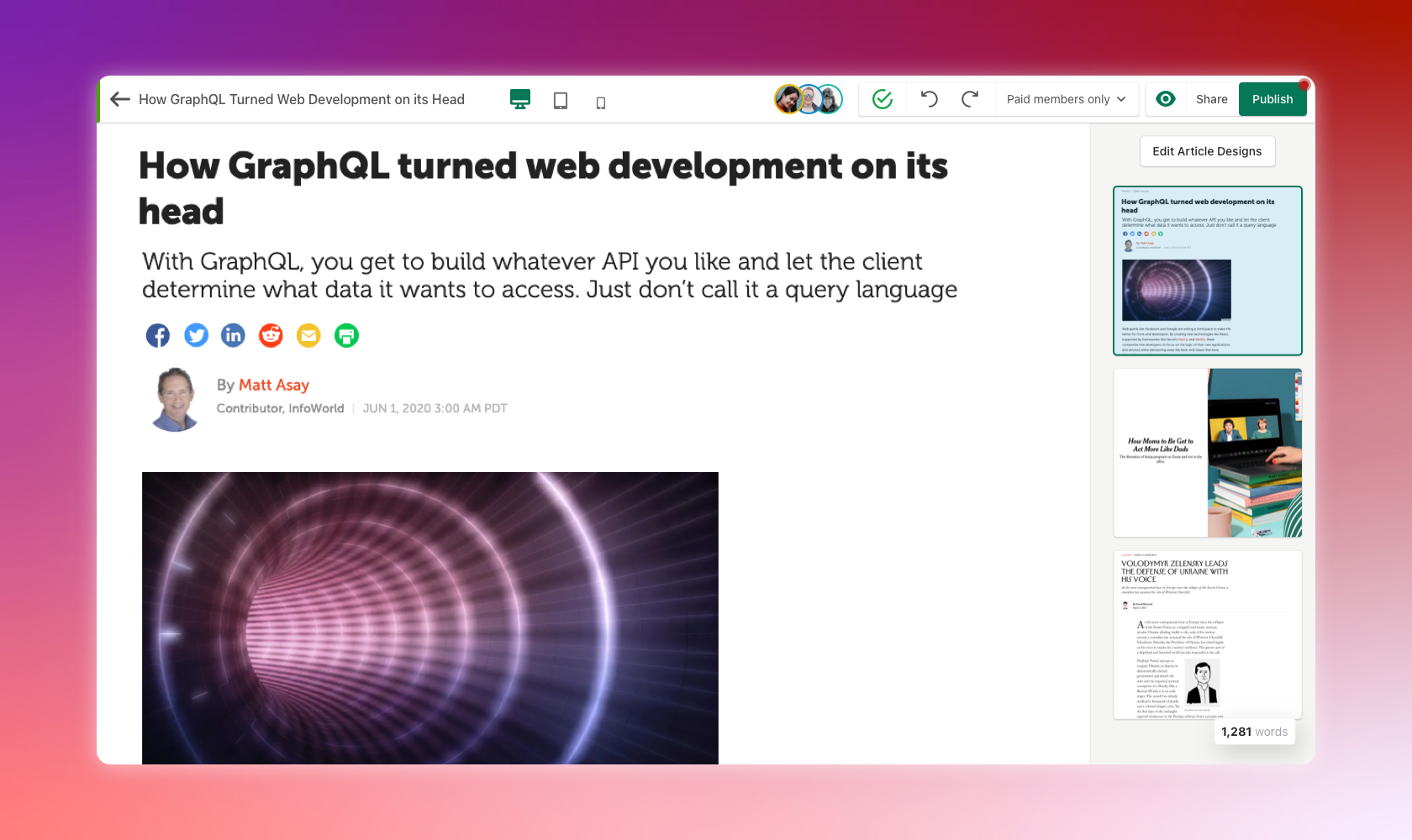 An enhanced live preview syncs across to the preview state, meaning you can instantly preview your content the way it looks on your site.

An easier design switcher encourages you to experiment with different article designs to maximise engagement.
📣 Social autoposting (coming next month)
Another much-requested feature was the ability to automatically post your articles to Facebook and Twitter when they're live. You'll soon be able to connect your Facebook and Twitter accounts to Storipress. Storipress will automatically craft a Tweet / Facebook Post for you on publish. Say goodbye to all that manual social media management work!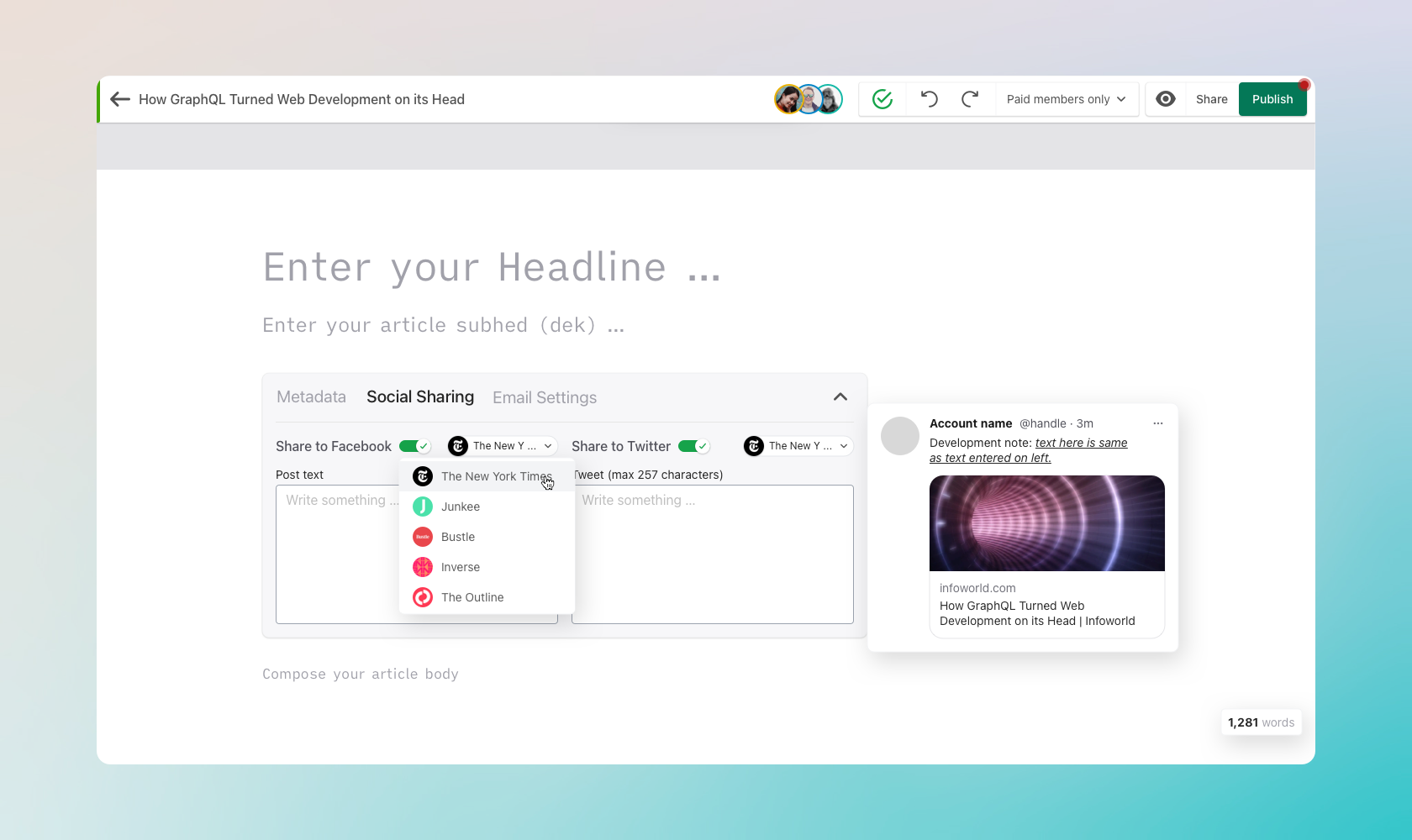 💰 Paywalls and Subscriptions (coming next month)
LFG (x2)!! Another hugely requested feature was the ability for Storipress to set up no-code paywalls for your content. Soon, you'll be able to do just that and more.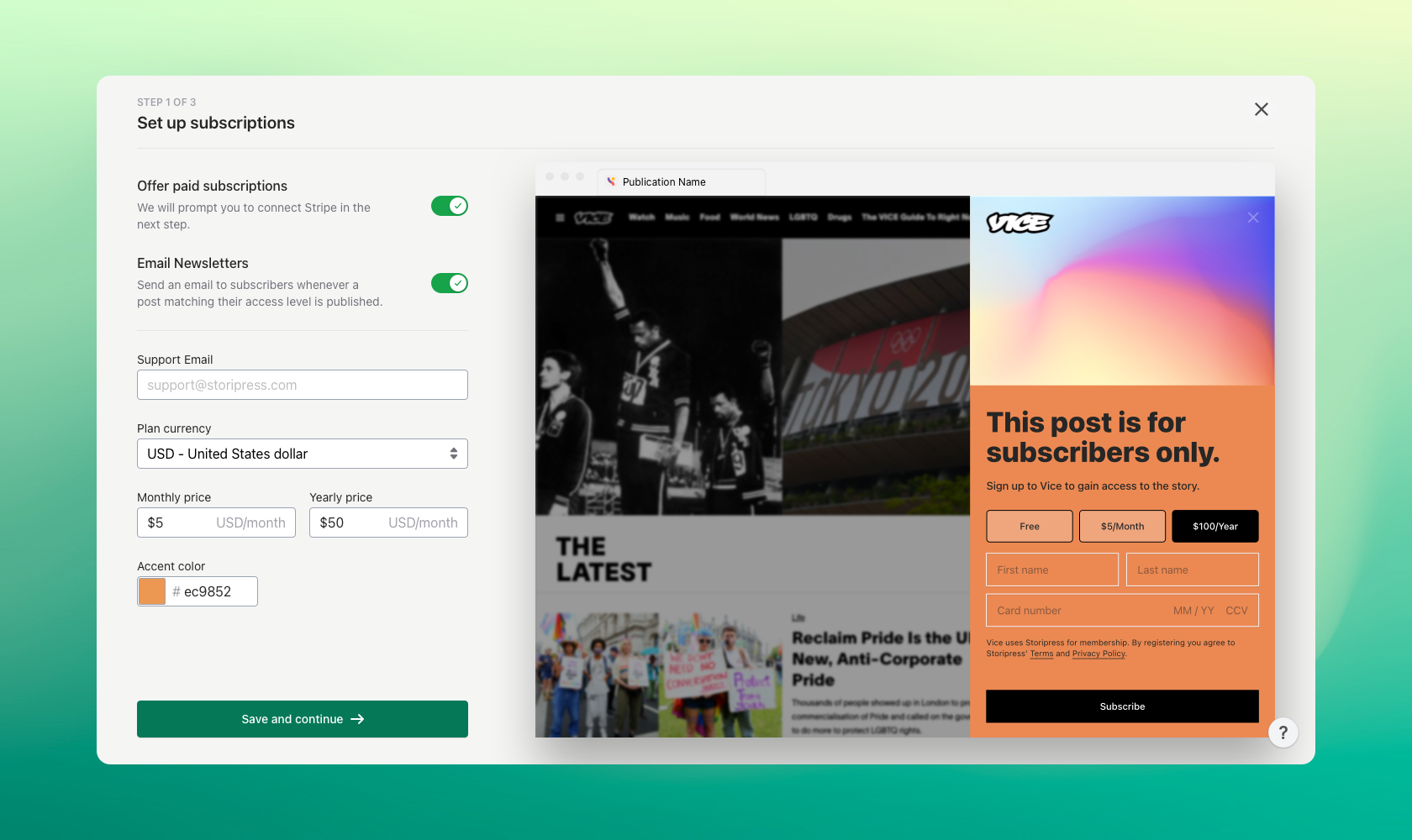 Multiple member classes: Make articles open access to all, free articles requiring signup/login, and paid articles needing a paid subscription.

Paid articles: On that note, we've partnered with Stripe to allow you to start selling subscriptions to your publications. Hello, creator economy!

Automatic emails: Send newly published articles to your email subscribers in one click.
But it doesn't stop there! Storipress will soon give you detailed member analytics, allowing you to see what content is performing the best and why.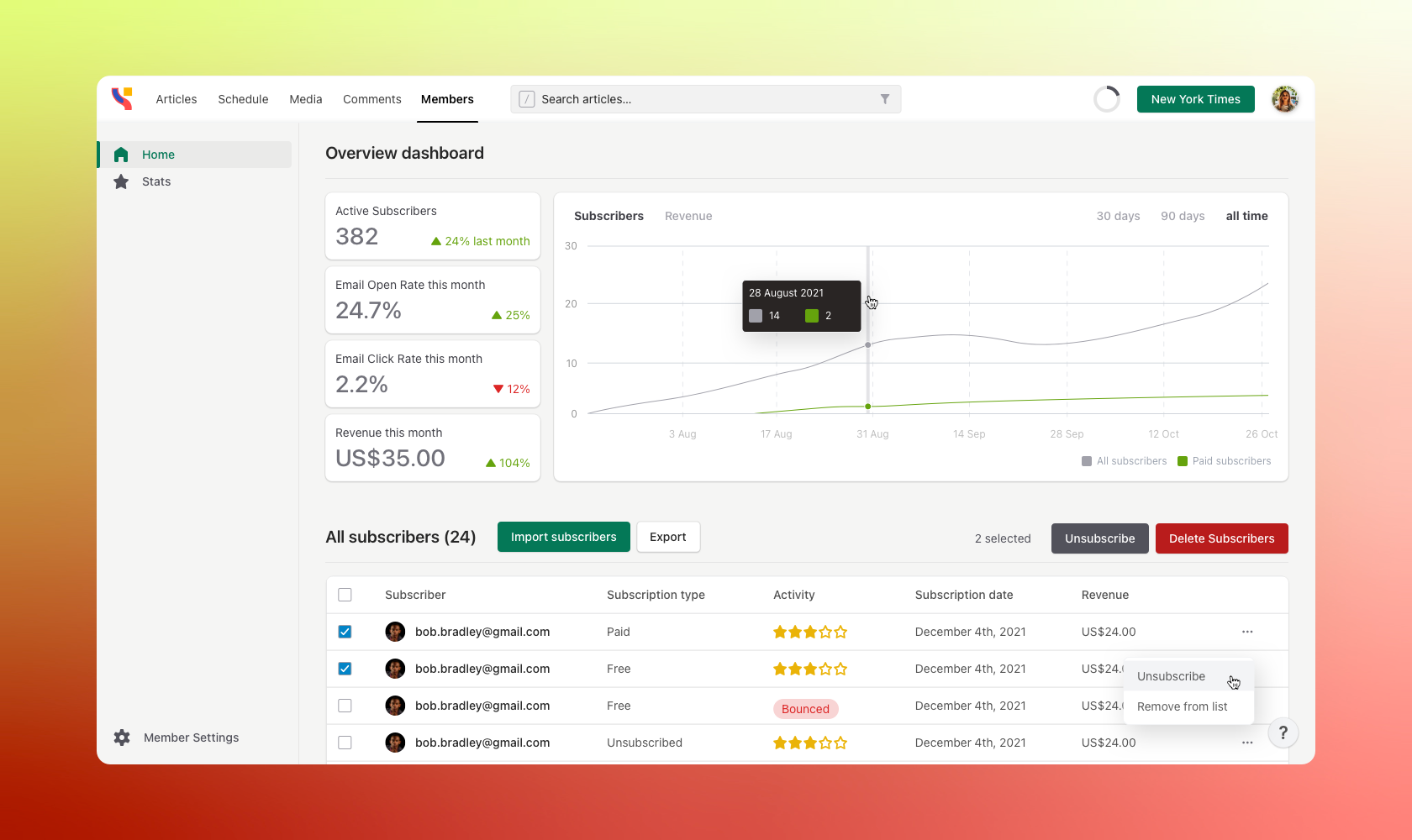 Analytics: See the source of a signup and a detailed log of everything they've read both in email and on your live site.

Import from CSV: on an existing mail provider? Import all your members with 1 click.
💝 Custom metafields, a public GraphQL API, and the WordPress integration
To finish it off, we have a couple of extra goodies set for launch in the next 2 months 🎁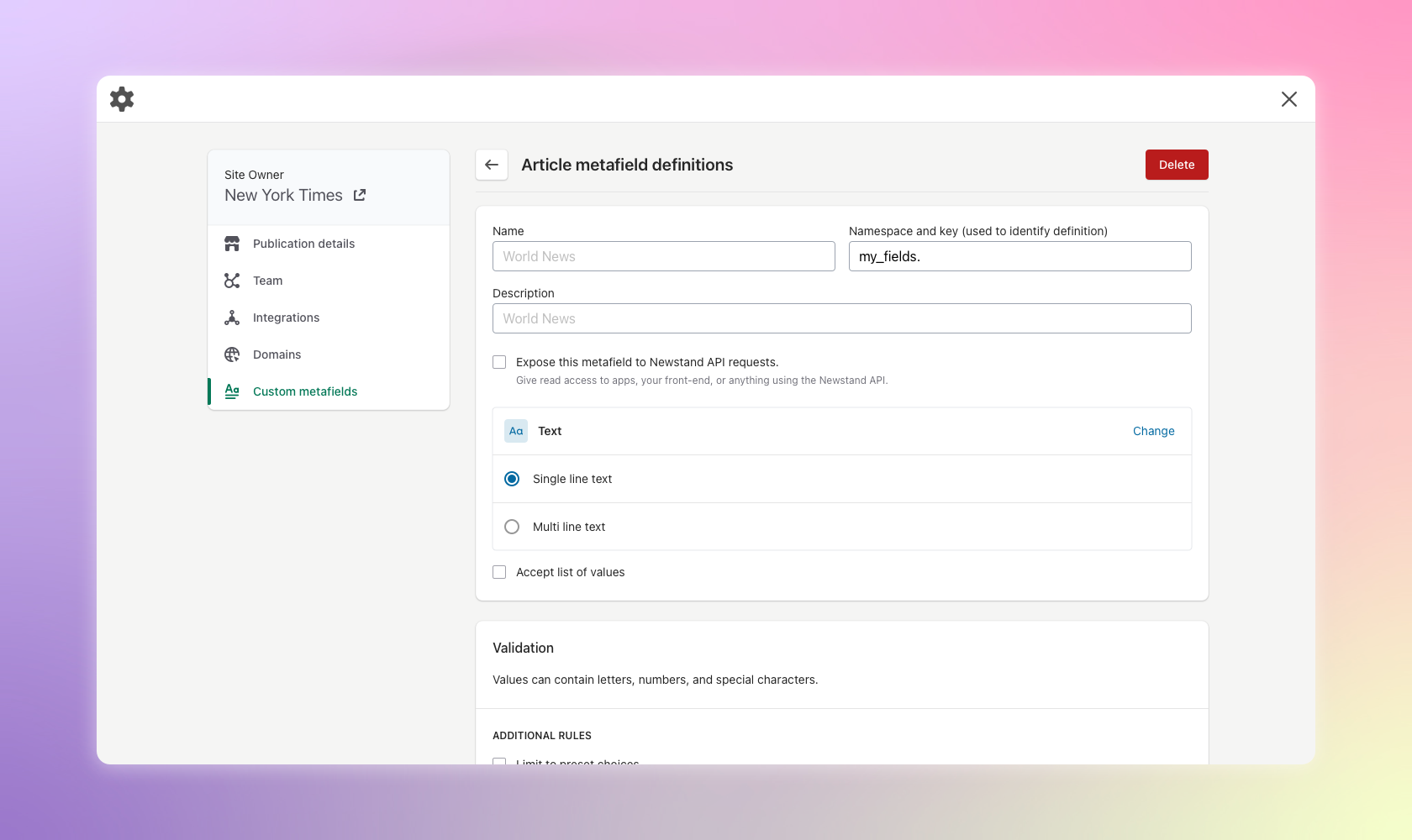 Storipress will soon allow you to create custom metafields without code for use on a custom front end (stay tuned to see the amazing things you can do with this power feature).

A WordPress integration allowing you to use Storipress on top of WordPress, where Storipress acts as your team management tool, with WordPress being your site builder.

A public GraphQL API allows you to query your data directly and create incredible omnichannel experiences.

A new invite credit system rewards you for inviting new members to your team.
Got questions about this release?
Simply respond to this email or send Alex our CEO an email directly at alex@storipress.com. We'd love to hear your thoughts!
Storipress was built on the vision that in 2022, every industry is a media industry, but starting a media company is unreasonably hard. For those without the technical resources (most of us), we give you the tools to build your content vision without limitation so you can be proud of what you're obsessed with. As an 'all-in-one' platform for media businesses, Storipress allows you to realise your vision — fast.
We're taking a massive leap to meeting this goal with this release.
With love; Alex, David and Kevin, Co-Founders of Storipress